The Lucky One ~ I am not usually that lucky. However as I type this I am sitting in a hotel room at Foxwoods Casino. How lucky am I that I can go for day trips with my loved ones and have a good time. I also have to admit that I do have a few lucky charms, I used to work at a gift shop that sold figurines and all sorts of things. Including Beanie Babies! I had finally gotten my license on the fourth try and was just starting to drive, A Boyd's Bear figurine was released of a guardian angel holding a car! I had to have her!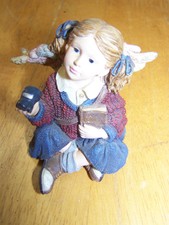 Since 2000 she has been attached by Velcro to my dashboard. She has also switched cars, She is my lucky driving angel. Her name is Carrie-B-Safe!
I can't drive without her, It was meant to be that she was released just after I got my license! Seventeen years later she is still in my car! What are your lucky charms?
Even though I am not really a lucky person, I try to bring myself as much good luck as possible. If I had to guess what my luckiest day was, it would be the day I won $1000 on a lottery ticket!
I also have a great family that I love very much! So I guess I am the lucky one!
Thank you for reading a story from
#BehindTheBlogger Hop
. Every 2 weeks a group of bloggers is given a writing prompt. These prompts are very open ended, so our bloggers can write about whatever they desire. The main rule is that their blog post directly relates to the topic of that week. The point of this hop is for our readers to get to know us on a personal level. Please hop along and read all of the blog posts in this weeks hop. Just click the links below. If you want real and raw emotion, then you will find it here. After you read each post, please comment and share. We want to get to know you too!