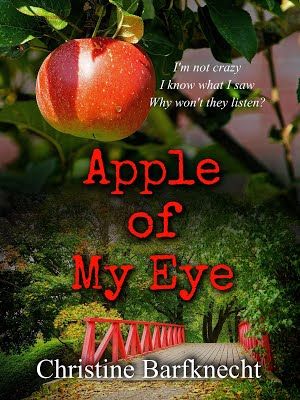 Date Published:
08-04-2018
Laurie Brandon isn't crazy. It's a bout of panic that has her muttering indecipherable sounds and crying out like a mad woman, an attack brought on by her infant daughter's sudden disappearance from the town's annual Apple Festival. Not insanity. She needs help to save Emily. Someone has to see that, do something.
But her recent history of psychosis coupled with witness claims that Emily was never at the festival with Laurie isn't helping her credibility. Neither is recent suspension from her job as a school teacher over stability concerns. Perhaps most damaging, though, is Laurie's insistence that her ex-husband, Jake, had something to do with the child's disappearance. Any sane person knows a dead man can't run off with a baby.
The town sheriff believes Laurie is, at best, unreliable and possibly something much worse. But Laurie knows what she saw. She knows other things, too, details too hard to believe and even harder to accept. Now, she needs to convince someone – anyone – that Emily is in danger before the sheriff locks Laurie away permanently.
I'm not crazy. I know what I saw.
With a wave of dizziness, I hunch forward, my head hanging low, my palms pressing against a cool, hard surface. The evening sky blackens before my eyes and the chill in the air raises goosebumps on my arms despite my fleece lined sweatshirt. I can't think straight, can barely breathe.
The silhouette in the darkness…that posture, poised to take action…
I didn't need to see a face. I'd know that stance anywhere. But it isn't possible.
I chew on my lip, try to gnaw the panic away. It has to be possible. I saw with my own eyes.
I can't just stand here and wait, need to do something, find help. No one will believe me, though. It's hard enough for me to believe me. It won't help that everyone seems to think I'm out of my mind.
A tingling sensation shoots through my head like a strike of lightning and heat spreads through my body, starting in my head and washing through my chest. My heart beats so fast I fear it will burst. I remind myself to breathe. It's just a panic attack. I've had plenty before and right now, it's no wonder. Soon it will be over. I'll be back to normal, get help, make someone believe me. Someone will help. They have to.
Breathe in, one, two, three. Out, one, two, three.
A fog settles in my head, sprinkling over my mind like chalk dust. I find myself gasping, my heart racing faster and harder. This symptom is new. I blink, trying to focus on the brick surface of the street but it's a blur. The dust is growing thicker, an eraser materializing, brushing over my mind and randomly choosing which memories to wipe away.
Not my memory. I must remember.
My palms slide farther over the surface of…a table, counter…I'm not sure, but it's rough like a sheet of unfinished wood. I lean hunched over it, struggling to breathe as I peer beneath my arm to look behind me.
Emily. My sweet baby girl.
About the Author
Christine Barfknecht has a passion for weaving the darkest bits of the human psyche into page-turning fiction. She's been crafting stories since before she printed her first word and credits her overactive imagination to a lifelong love of reading. She seeks out books that keep her hiding beneath the covers at night or turning pages long after her eyes begin to cross, and strives for those qualities in her own writing.
Christine lives in rural Wisconsin with her husband, children, and pets where she is also a virtual bookkeeping entrepreneur. In addition to reading and writing, she enjoys gardening, crafts, time with family, and traveling. APPLE OF MY EYE is her debut novel.