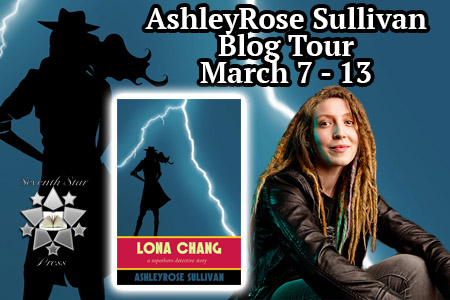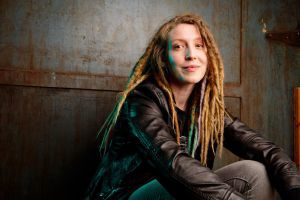 About the author: Originally from Appalachia, AshleyRose Sullivan lives, writes, and paints in Los Angeles with her husband and their many imaginary friends. Her work has been published in places like The Rumpus, Barrelhouse, and Word Riot and her novels, Awesome Jones: A Superhero Fairy Tale and Silver Tongue are available from Seventh Star Press. She can be found at ashleyrosesullivan.com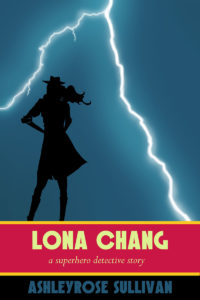 Book Synopsis for Long Chang:
When one of the world's greatest superheroes dies in her arms, Lona Chang takes it upon herself to investigate his murder. Armed only with a power she barely understands and a mysterious coded book, Lona begins a quest for answers that leads her down a dark rabbit hole of secrets--secrets the ancient organization known as the Guild is determined to keep hidden at all costs.
Meanwhile, when a new threat descends upon Arc City, Lona's soulmate (and freshly minted superhero) Awesome Jones defies the Guild, dons the cape and cowl of his father and finds a group of unlikely allies. But can Awesome trust them--or himself? He'll have to fight his own demons first if he has any hope of defending the town-and the people-he loves.
As tensions rise between the Guild, Lona, Awesome, his allies and Arc City's criminal underground, Lona realizes that life, and the answers to its questions, are never as simple as they seem in comic books.
My Review:
This is a fun read that is a part fantasy and part real life. With all the super heroes that are out there today, especially now that they all fight together. This book was different because the characters were a couple and they both had powers. It was fun to read how they dealt with their relationship and powers, especially since this is the second book in the series. I liked that they had jobs too. What I liked the most is that they worked on real life issues. I can not wait for the next book in the series. I am giving this book a 3/5. I was given a copy, all opinions are my own.
Author Links:
Website:
www.ashleyrosesullivan.com
Twitter: @http://www.twitter.com/MyYearOStarTrek
Amazon.com Links for Lona Chang:
Kindle Version
https://www.amazon.com/Lona-Chang-Superhero-Detective-Story-ebook/dp/B0749JN9NH/
Print Version
https://www.amazon.com/Lona-Chang-Superhero-Detective-Story/dp/1941706649/
Barnes and Noble Link for Lona Chang:
https://www.barnesandnoble.com/w/lona-chang-ashleyrose-sullivan/1127064962?ean=9781941706640