Southern Haunts Three - Magick Beneath the Moonlight Virtual Tour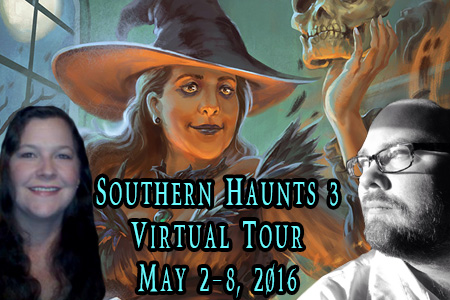 About the Editors: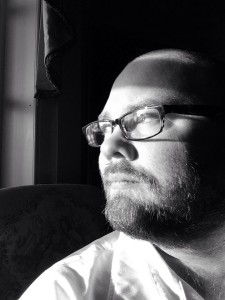 Alexander S. Brown:
Alexander S. Brown is a Mississippi author who was published in 2008 with his first book Traumatized. Reviews for this short story collection were so favorable that it has been released as a special edition by Pro Se Press. Brown is currently one of the co-editors/coordinators with the Southern Haunts Anthologies published by Seventh Star Press. His horror novel Syrenthia Falls is represented by Dark Oak Press. He is also the author of multiple young adult steampunk stories found in the Dreams of Steam Anthologies, Capes and Clockwork Anthologies, and the anthology Clockwork Spells and Magical Bells. His more extreme works can be found in the anthologies Luna's Children published by Dark Oak Press and State of Horror: Louisiana Vol 1 published by Charon Coin Press. Visit Smashwords.com, Amazon.com, and Barnesandnoble.com to download his monthly short stories known as Single Shots. These are represented by Pro Se Press and they are known as stories that will be featured in the upcoming book The Night the Jack O'Lantern Went Out.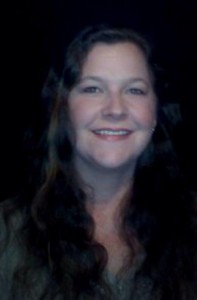 Louise Myers:
Louise Myers was born in New Orleans and during her teenage years was uprooted from everything she knew and was replanted in Mississippi. Though the transition was difficult, she is very glad to have the opportunity to have both worlds under her belt. She says this because she knows from living in both places, they are both a world all to their own. She is the wife of a wonderful husband and mother of three beautiful children, as well as the proud parent of a spoiled mutt. She was assistant editor of Southern Haunts: Spirits That Walk Among Us, co-editor of Southern Haunts 2: Devils in the Darkness, and co-editor of Southern Haunts 3: Magick Beneath the Moonlight. She is a beta reader, book doctor, editor, and author. Though this is her second story in print, she has been weaving tales for many years for pleasure. She has many thoughts on several topics she'd like to write, mostly surrounding ghost stories.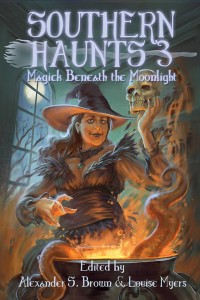 Book Synopsis for Southern Haunts 3: Magick Beneath the Moonlight:
Deep within the South, read about the magickal folk who haunt the woods, the cemeteries, and the cities. Within this grim anthology, eighteen authors will spellbind you with tales of hoodoo, voodoo, and witchcraft. From this cauldron mix, readers will explore the many dangers lurking upon the Natchez Trace and in the Mississippi Delta. They will encounter a bewitched doll named Robert from the Florida Keys, and a cursed trunk that is better left closed. In the backstreets of New Orleans, they will become acquainted with scorned persons who will stop at nothing to exact their revenge. These hair raising tales and more await you in Southern Haunts 3: Magick Beneath the Moonlight. Read if you dare.
Authors:
Alexander S. Brown
Angela Lucius
David Blalock
C G Bush
Della West
Diane Ward
Elizabeth Allen
Greg McWhorter
John Hesselberg
Jonnie Sorrow
Kalila Smith
Linda DeLeon
Louise Myers
Melissa Robinson
Melodie Romeo
J L Mulvihill
Robert McGough
Tom Lucas
Southern Haunts: Magick Beneath the Moonlight is the third title in the Southern Haunts Anthology Collection
Interview With
Alexander S. Brown, Editor
1.
When did you first realize you wanted to be a writer?
I knew I wanted to be an author at a young age. In Kindergarten, I started writing stories in crayon and magic marker, granted these stories were only a paragraph or so in length.
Throughout elementary school and Jr. High, I began reading Stephen King, Dean Koontz, Anne Rice, and Clive Barker before most kids even laid their eyes on Poe. It was because of these authors that my creativity began building and I knew I wanted to contribute to literary arts.
During High School, I started taking my work seriously and I pushed myself to be more detailed and gain a greater character development. After graduating, I began experimenting with different styles of writing, and by experimenting, my book Traumatized emerged. Currently, Traumatized is available as a special edition and is moving into audiobook. Its sequel is on the way and will be represented by Pro Se Press.
2.
What would you say is your interesting writing quirk?
This is not so much a writing quirk, but an editing quirk. When editing a story, I will read until I get to a section that needs attention. I'll correct the problem, but instead of reading forward, I will reread the last few paragraphs then come back to the corrected issue. If the passage reads well, I continue forward. If it still doesn't run smooth, I repeat the process.
3.
When did you write your first story and how old were you?
My first story that I shared with people was a horror story about a dog fight gone wrong. This was passed around at high school between lunches and at study hall. Despite how underdeveloped the tale was, it received a good response from readers. I was sixteen years old.
4.
What was one of the most surprising things you learned in creating your books?
What surprised me is how difficult the process is as one transcends from writing to editing, then to publishing. The journey is a long one and a stressful one. The easiest thing for me, which used to be the hardest, is writing. I can now write anything while music or television is on and I can endure distractions while the story is being written.
The hard part now is editing. Every sentence can have a billion different structures or wordings. Because of the diverse possibilities, I have to provide my undivided attention. This means, the music goes off, the television goes off, the blinds get pulled, the door gets locked, and the cell phone is put on silence.
Yes, it is true publishers do provide editors, but I want my story to be as near perfect as possible before it leaves my hands. This is the part of the process that seems like work to me, and I have to admit, I never realized how tedious and time consuming an editor's job was, until I was sitting in that seat.
5.
Do you have any suggestions to help me become a better writer? If so, what are they?
Take constructive criticism, but do not take criticism that is degrading. Never, have I ever tolerated anyone speaking to me like I am a child, and I never will. As an author, you shouldn't tolerate this type of behavior either. However, as an author, you must have a thick skin and you have to be willing to compromise when a reader, or editor, points out a legit issue that could improve your story. Correcting your story might not feel right at first, but give it a shot. It's not the nightmare that you think it is.
6.
What do you think makes a good story?
In general, I believe good stories come from these two factors, relatable characters and unique storylines.
We are living in a time where characters are constantly changing to meet new lifestyles, and I find this interesting. Read a book recently published, then read a book published from fifty years ago. Chances are both books will be good, but the character actions and descriptions differ greatly over the years. To continue creating tangible characters, the author must provide a diversity throughout their career so people of multiple ages can relate.
Storylines are another important factor. Storylines today need to be creative and unique. Example: if you write a story about werewolves, be prepared to receive questions, such as, "What makes your werewolf novel different than the rest?" This is when, as an author, a fresh canvas needs to be presented so that the lore will be yours and differ from other literary pieces.
If one would like to see a difference in mythology and character while regarding the same subject, read Bram Stoker's Dracula, Stephen King's Salem's Lott, Anne Rice's Interview with the Vampire, and John Ajvide Lindqvist's Let the Right One In. Between these four novels, readers should be able to depict a difference between character development, pacing, and theme. A reader should also be able to see how each of these authors have made the subject their own without plagiarizing one another.
7.
Where do you get your information or ideas for your books?
I research and I go to living sources who may specialize in the subject which I am writing.
The most difficult book that I have edited is my novel, Looking Glass Creatures, which is still in the editing process. The last edit that a friend and I accomplished, showed I needed to bring a greater accuracy to medieval weaponry and living off the land. Since these subjects are her specialty, I knew I went to the right source. My inspirations for this book have been Alice in Wonderland, Hellraiser, Resident Evil, Conan, and a great deal of heavy metal music.
Syrenthia Falls is inspired by my life during high school. Although, it is a werewolf novel, I want people to read it as a character study. Despite my main inspiration for Syrenthia Falls came from life, I was always a huge fan of Carrie and American Werewolf in London. For my research, I read books regarding satanic mythology, as well as Haitian and European mythology.
My book Traumatized is based on what I was going through and how I interpreted the world from 2003 until its publication. Traumatized can be read as a collection of short stories, but it's much more than stories. In this diversity of tales, subjects range from homophobia to women's liberation to sexual repression and how the past can dismantle us.
While creating my upcoming collection The Night the Jack O' Lantern Went Out, I wasn't concerned about metaphors. This collection regards the joys of Halloween, as Halloween has always been a big holiday for myself. Even in my adulthood, Halloween is still important to me, as it reminds me to be a kid. In this collection, I try to share that same childlike wonder that I had in a vintage style.
With the Southern Haunts books that I have co-edited, each book's reasoning is explained in the intro. To sum up the reason of why Southern Haunts exists, author J L Mulvihill and myself wanted to create an anthology that could provide readers with folkloric style horror stories, based in the South and Southwest. With each book, the theme changes. The fist volume regards ghosts, as its sequel regards demons, and the third volume focuses on magickal persons.
8.
What would you like my readers to know about you and your work?
That my books are guaranteed to keep you awake. If they don't
, contact me and I'll increase the tension.
Tour Schedule and Activities
5/2/2016
Book in the Bag
Review
5/3/2016
SwillBlog
Review
5/3/2016
Beauty in Ruins
Guest Post
5/4/2016
Connie P
Guest Post
5/5/2016
Jorie Loves A Story
Review
5/6/2016
Sheila's Guests and Reviews
Guest Post
5/6/2016
L. Andrew Cooper's Horrific Scribblings
Review
5/7/2016
Sapphyria's Book Reviews
Top Ten's List
5/8/2016
Come Selahway With Me
Interview
5/8/2016
Deal Sharing Aunt
Interview
Amazon Links for Southern Haunts Magick Beneath the Moonlight
Kindle Version
http://www.amazon.com/Southern-Haunts-Magick-Beneath-Moonlight-ebook/dp/B01778OK8A
Barnes and Noble Link for Southern Haunts Magick Beneath the Moonlight
http://www.barnesandnoble.com/w/southern-haunts-alexander-s-brown/1122860995?ean=2940150901841