Bob Freeman's Cairnwood Manor Series Virtual Tour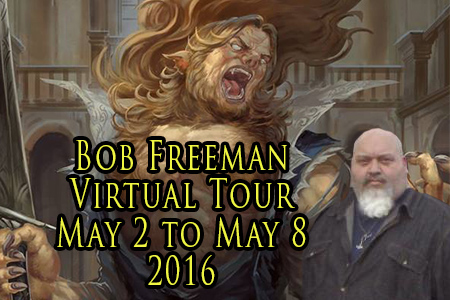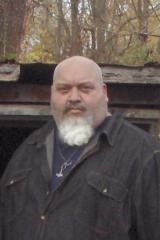 About the author:
Bob Freeman is an author, artist, and respected lecturer on the occult and paranormal phenomena. A lifelong student of mythology, folklore, magick, and religion, Mr. Freeman makes his home in rural Indiana with his wife Kim and son Connor.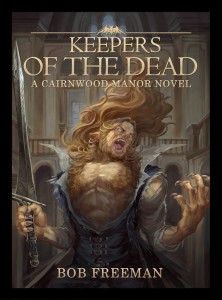 Book Synopsis for Keepers of the Dead:
THE VAMPIRE MACGREGOR LIVES... "Foolish pup," MacGregor chided the werewolf, "you don't get it. Laddie, if water were evil I'd be but a drop. What lurks below is an ocean." From the haunted halls of Cairnwood Manor to the bowels of Rosslyn Chapel, Bob Freeman hurls you into the very heart of the eternal conflict between the forces of darkness and the forces of light. It's fang versus claw, spell versus steel, and love versus death in an epic battle of blood and thunder. When a sinister cabal converges to unleash the ultimate evil against an unsuspecting world, only the combined strength of the Wolves of Cairnwood Manor and the Circle of Nine Skulls offers up a glimmer of hope as werewolves, vampires, witches, immortal warriors, and an army of the undead collide in a battle of epic bloodshed.
When did you first realize you wanted to be a writer?
At an early age. I was a voracious reader and loved making up my own stories. I was writing comics, short stories, and plays in elementary, but I really think it was when I began playing Dungeons & Dragons that the idea of writing as a vocation was birthed.
What would you say is your interesting writing quirk?
I have, by necessity, murdered most of my quirks, but I still cling to music. Nothing with lyrics generally. I listen to a lot of movie and tv soundtracks and I have a real fondness for traditional Celtic and Norse folk music.
When did you write your first story and how old were you?
Somewhere around 7, I suspect. I used to take comic books and lay them out and make up my own stories rewriting pages from The Mighty Thor, Conan the Barbarian, and Fantastic Four.
What was one of the most surprising things you learned in creating your books?
That writing is magic and better than therapy.
Do you have any suggestions to help me become a better writer? If so, what are they?
The one best piece of advice I can give is to finish what you start. Press on to the end, even if you feel like something isn't working. You can always fix it later.
What do you think makes a good story?
Something that speaks to the reader emotionally, with characters that are relatable, and a plot that has real energy behind it, but most importantly, is steeped in
verisimilitude
.
Where do you get your information or ideas for your books?
When I was a boy I used to go around to rummage sales with my grandparents after church. It was their job, of sorts, as they ran a three seasonal sort of general store out of their garage once they'd retired.
At one of these rummages I bought a cardboard box full of old mason jars and I tucked them away in my bedroom and I discovered quite by accident that they were quite magical. They weren't empty jars at all, but each one was filled with all manner of stories and whenever I felt like writing one myself, all I had to do was remove a lid and out they'd pour.
And then it was just a matter of writing them down really fast...
Well, that's not true at all is it?
Truth is, I have no idea where my ideas come from, but they always seem to be there.
I daydream a lot and I suppose it's a combination of that, being well-read and with an appetite for history and things, and of being something of an odd sort.
I quite like telling stories, be they made up and fanciful or things more factually aligned. I like the way words feel as they drip off the tongue or even as they form inside ones head.
I meant what I said earlier, that bit about writing being magic. All storytelling is, I think. Turn back the clock far enough and you'll see our ancient ancestors huddled around a campfire making up stories about the clouds and the stars and all manner of things that go bump out there in the dark.
It's what we do, all of us, and some have more of a knack for it than others.
What would you like my readers to know about you and your work?
I believe in magic and things that go bump in the night. I was recently asked about the fictional worlds in which I write and the very real one in which we find ourselves in and my reply was this: While it's true my fictional world is populated by all manner of preternatural beasties, god-forms, and magic-wielding ne'er-do-wells, I like to think it's grounded in reality. It's certainly not too far removed from mine, but then I live a wee bit more on the fringe than most.
At the heart of it, I'm a simple guy, really. I live on the outskirts of a rural Indiana town a couple hours north of Indianapolis with my wife and twelve year old son, less than two miles from the farm where I was born and raised and the little boneyard where my thirst for all things paranormal and occult was engendered.
Author Links:
Website:
occultdetective.com
Twitter:
twitter.com/OccultDetective
Tour Schedule and Activities
5/2/2016
Shell's Interviews
Review
5/2/2016
Beauty in Ruins
Guest Post
5/3/2016
Sheila's Guests and Reviews
Interview
5/4/2016
MyLifeMyBooksMyEscape
Interview
5/6/2016
Sapphyria's Book Reviews
Guest Post
5/6/2016
Hunting Monsters
Guest Post
5/7/2016
I Smell Sheep
Top Ten's List
5/8/2016
SwillBlog
Review
5/8/2016
Deal Sharing Aunt
Interview
Amazon Links for Keepers of the Dead
Kindle Version
http://www.amazon.com/Keepers-Dead-Cairnwood-Manor-Book-ebook/dp/B018Q7HODO/
Barnes and Noble Link for Legends of Darkness
http://www.barnesandnoble.com/w/keepers-of-the-dead-bob-freeman/1123044354?ean=2940157786557