To solve her father's murder and save the family-owned glass shop, Savannah Webb must shatter a killer's carefully constructed façade.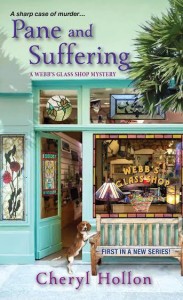 After Savannah's father dies unexpectedly of a heart attack, she drops everything to return home to St. Petersburg, Florida, to settle his affairs–including the fate of the beloved, family-owned glass shop. Savannah intends to hand over ownership to her father's trusted assistant and fellow glass expert, Hugh Trevor, but soon discovers the master craftsman also dead of an apparent heart attack.
"A fresh and original new series! Savannah Webb is as clever at piecing together clues as she is at piecing stained glass. Well-crafted with smart and intriguing clues, Pane and Suffering will keep you guessing to the end!"
—Krista Davis, New York Times bestselling author
The next book in the series Shards of Murder released on February 23, 2016.
When a glass-making competition turns deadly, glass shop owner Savannah Webb must search for a window into a criminal's mind…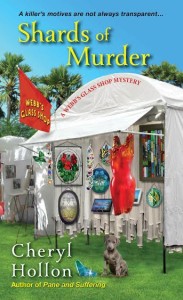 As the new proprietor of Webb's Glass Shop, Savannah has been appointed to fill her late father's shoes as a judge for the Spinnaker Arts Festival, held in downtown St. Petersburg, Florida. With her innovative glass works, the clear winner is Megan Loyola, a student of Savannah's former mentor.When a glass-making competition turns deadly, class shop owner Savannah Webb must search for a window into a criminal's mind…
But when Megan doesn't show up to accept her $50,000 award, rumors start flying. And when Savannah discovers the woman's dead body on festival grounds, the police immediately suspect her of murder. To keep from appearing before a judge herself, Savannah sorts through the broken pieces of glass scattered around the victim for clues as to who took this killer competition too far.
"The setting, the craft, the dog – all are critical to a cozy mystery, and here Hollon hits a homerun. The plot has a couple of surprising twists that decrease its predictability making it an entertaining amateur sleuth adventure."– RT Book Reviews, 4 Stars
The third book in the series Cracked to Death will be released on June 28, 2016. It is available for Pre-Order!
When a treasure hunt leads to deadly plunder, it's up to glass shop owner Savannah Webb and her trusty investigative posse to map out the true motives of a killer. . .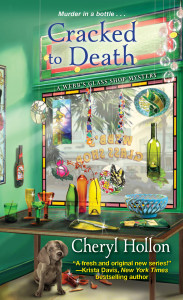 It's the dog days of summer in St. Petersburg, Florida, and Webb's Glass Shop proprietor Savannah Webb has an eco-friendly plan to help locals escape the heat–a recyclable bottle-crafting workshop taught by reticent store manager Amanda Blake. Turns out, the class is a bigger smash than expected, thanks in part to a pair of staggeringly old bottles brought in by snorkeler Martin Lane . . .
Linked to a storied pirate shipwreck, the relics definitely pique Savannah's interest. But intrigue turns to shock when Martin's lifeless body washes ashore the next morning, another glass artifact tucked in his dive bag. With cell phone records connecting Amanda to the drowning, Savannah must voyage through unchartered territory to exonerate her colleague and capture the twisted criminal behind Martin's death . . .
"Cheryl Hollon clearly knows her glass craft, but better still, she also knows how to craft a good mystery."
—Sheila Connolly, New York Times bestselling author
—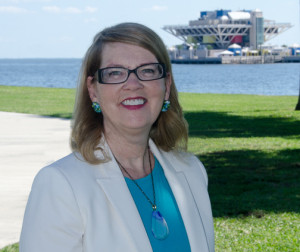 Cheryl is a member of Sisters in Crime, the Florida Chapter of Mystery Writers of America and Romance Writers of America. A mystery conference addict, she regularly attends SleuthFest in Florida, Malice Domestic in Washington, DC, and New England Crime Bake in Dedham, MA.
Cheryl and her husband live in St. Petersburg, FL in a 1920's Craftsman Bungalow.
This was a very interesting book for me. I did not know that there was so much to glasswork. There was a lot going on, a dog show, a glass competition, an investigation, romance and inventions. however it was beautifully written and flowed well. I really liked the info on show dogs and loved that show time was also when the mystery was solved. I love a good cozy where the animals play an important role. The killer was not who I thought and I really enjoyed the explanation for the killings. There were also some god things that happened at the end that I hope will be in future books. The Glossary of Terms was also helpful as I was reading. I am giving this book a 5/5. I was given a copy to review, however all opinions are my own.