BOOK INFORMATION
TITLE – Graphically Novel SERIES (& Book #) – Love Hashtagged Book 3 AUTHOR – Allyson Lindt GENRE – Contemporary Romance PUBLICATION DATE – 2/12/2016 LENGTH (Pages/# Words) – 50,000 words PUBLISHER – Acelette Press COVER ARTIST – Loralie Hall
NOTE - can be read as a standalone.
---

BOOK SYNOPSIS
Her best friend has his own comic shop, respects her fandom, and offers to add a with benefits clause to their relationship, to distract her from the stresses of work. What more could a geek-girl ask for?
Tori thought being the head designer and co-owner of a cosplay-themed lingerie company meant a chance to create. Instead of coming up with new ideas of her own, she spends all her time drawing others' concepts, and managing her half the corporation.
The pressure pushes her past the edge of frustration. Her best friend and Sunday afternoon movie buddy, Archer, offers her an outlet—sex, minus the emotional attachment. When getting off takes a graphically novel turn, Tori realizes dirty talk is a massive turn-on.
The rush of speaking her mind bleeds into the workplace, and the backlash leaves Tori staggering. On top of that, she hasn't protected her heart from Archer as well as she intended. Now the novelty of saying what she thinks threatens to screw Tori out of her job and her closest friend.
---
BUY & TBR LINKS
---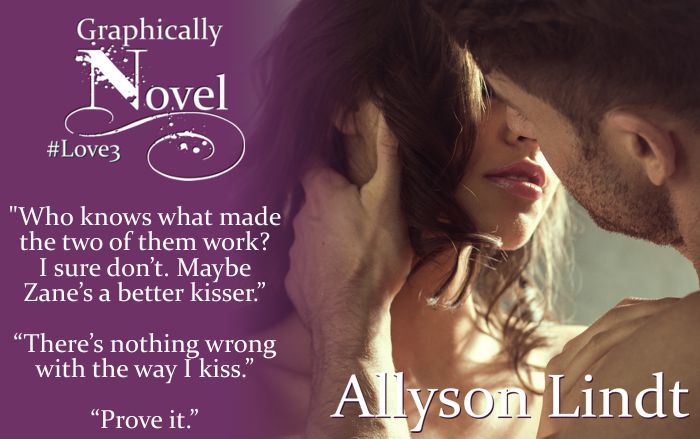 EXCERPT
"Tell me what you want."
"More."
"More what?"
He was going to make her say it, and she realized the only thing bothering her was that she wanted to speak the words. This wasn't her.
But apparently it was.
BOOK SOUNDTRACK
- Careless Whisper, by Seether - Alone, by Heart - Wish You Were Here, by Avril Lavigne - Amen, by Halestorm - Hammerhead, by The Offspring - Shatter Me, by Lzzy Hale & Lindsay Sterling - Want You Bad, by The Offspring
---
AUTHORS PLAYLIST
- Paralyzer, by Finger Eleven - Wish You Were Here, by Avril Lavigne - Casual Sex, by My Darkest Days - I Want You to Want Me, by Cheap Trick - Love the Way You Lie, by Rihanna - Again, by Flyleaf - Porn Star Dancing, by My Darkest Days
---
AUTHORS GIVEAWAY
A 3-book signed Love Hashtagged paperback set, including The #5Star Affair, Too Goode to be True, and Graphically Novel. Also available internationally.
CLICK HERE TO ENTER THE AUTHORS GIVEAWAY

AUTHOR BIO
Allyson Lindt is a full-time geek and a fuller-time contemporary romance author. She prefers that her geeky heroes come with the alpha expansion pack and adores a heroine who can hold her own in a boardroom. She loves a sexy happily-ever-after and helping deserving cubicle dwellers find their futures together.
Interview:
Where are you from?
The recesses of cubicle-landia, where dreams are broken, and some wicked office romance fantasies are forged. Also, Utah. We've got snow, commuter trains, and some gorgeous views from the hills.
Tell us your latest news?
I've got something old and something new in the works. New is a contemporary romance series, Your Ad Here, that kicks off with the heroine crushing on her best friend's older brother.
Old but re-polished, in a previous (writer) life, I had another pen name, and she released a handful of Urban Fantasy novels. I'm re-releasing my book Uriel's Fall, and finally finishing the series. The eternal struggle between heaven and hell has gone corporate.
When and why did you begin writing?
I've been writing since I was tiny. At five or six, I wrote my first "book" about a girl who wanted a horse, so she saved her money to buy one. I kept doing the writing thing, because there have always been stories I wanted to read that aren't out there. So I make them.

When did you first consider yourself a writer?
Forever? :D I got serious about it—polishing my work, figuring out the whole publishing thing, about eight years ago, and I've never looked back.

What inspired you to write your first book?
My first real, full length novel was a very early iteration of Uriel's Fall. I found a drawing of a demon-looking elf girl, and I happened to be listening to Evanescence's Fallen album at the time. An demon who was struggling to find her place in this world and back home popped into my head, and Ronnie was born.

Do you have a specific writing style?
Sarcastic, frantic, and cutting things as close to the deadline as possible. I like traces of humor, those little quirky moments that make a reader laugh out loud, and characters with intelligence and sass. They also tend to make a lot of geeky pop-culture references, because geeky pop-culture rules me :D
How did you come up with the title?
Graphically Novel… I struggled with this one for a long time. The book has had a lot of titles since I started writing it. In the end, it came down to, the hero, Archer, has his own comic book shop, and the heroine, Tori, is learning that dirty talk is a turn-on. From there, the pun presented itself.

Is there a message in your novel that you want readers to grasp?
All my novels have a similar underlying theme—you're happier being yourself, and finding your place in the world, than trying to mold to other people's expectations. Oh, and in this one, that smexy-times in the forest can be super-hot. ;)

How much of the book is realistic?
I think the majority of this book is realistic. Especially since a lot of Tori's experiences with work are taken from a job I had once upon a time.

What books have most influenced your life most?
It's a long list, but I'll try and narrow it down a little bit.
Good Omens by Neil Gaiman and Terry Pratchett is a huge influence for me, as is American Gods by Neil Gaiman. And the Forbidden Game and Vampire Diaries books by LJ Smith rocked my world when they first came out, and are still at the top of my list as influences.
If you had to choose, which writer would you consider a mentor?
I don't know if she'll remember me, but she probably will since she's amazing like that. When I was first getting serious about writing romance, I was fortunate enough to be on a writing bootcamp team with Cathryn Fox. She critiqued my first few books, and gave me such brilliant help and feedback. When I think of mentors, she always immediately snaps to mind.
What would you like my readers to know?
Hmm… I should think up a tag line for things like this. Something like Geeks rule, Homer Simpson drools. Or go with the standard "read my books." But I guess the biggest thing they should know, is I love meeting new people, so if they ever want to say hi on Facebook or Twitter, I'd be pleased to make their acquaintance.
They should also know I'm super grateful to visit here today. Thank you for hosting me!
---
AUTHOR FOLLOW LINKS
---
This event has been organized by