RJ Sullivan's Darkness With a Chance of Whimsy Blog Tour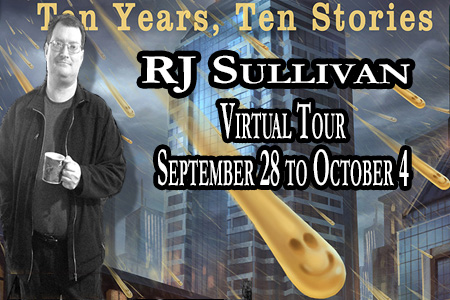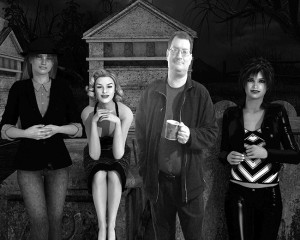 About the author:
R.J. Sullivan's novel Haunting Blue is an edgy paranormal thriller and the first book of the adventures of punk girl Fiona "Blue" Shaefer and her boyfriend Chip Farren. Seventh Star Press also released Haunting Obsession, a Rebecca Burton Novella, and Virtual Blue, the second part of Fiona's tale. The short stories in this collection have been featured in such acclaimed anthologies as Dark Faith Invocations by Apex Books and Vampires Don't Sparkle. His next book due out very soon will be Commanding the Red Lotus, which collects the series of science fiction novelettes in the tradition of Andre Norton and Gene Roddenberry. R.J. resides with his family in Heartland Crossing, Indiana. He drinks regularly from a Little Mermaid coffee mug and is man enough to admit it. www.rjsullivanfiction.com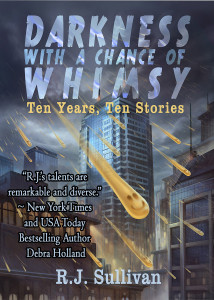 Book Synopsis for Darkness With a Chance of Whimsy:
Collected for the first time since their initial publications, Darkness with a Chance of Whimsy presents ten tales from the imagination of R.J. Sullivan. Thrills and chills await you, but you may also get blindsided by the absurd. This volume includes a pair of stories featuring Rebecca Burton, the mysterious investigator of R.J.'s acclaimed paranormal thriller series. Among the ten stories, you'll find: "The Assurance Salesman" shows five strangers more about themselves than they ever guessed. You don't want to venture into Daddy's basement in "Fade." Rebecca Burton tries to talk someone out of a bad idea in "Backstage Pass." A bullied police detective finally defeats his rival in "Able-Bodied." A desperate father finds the "Inner Strength" to save his young daughter, "Becky" Burton. A child seeds his aquarium with a most unusual "Starter Kit." A brilliant robotics engineer creates a "Robot Vampire."
Author Links:
Website: http://rjsullivanfiction.com/
Facebook: https://www.facebook.com/R.J.SullivanAuthor
Twitter: @rjsullivanauthr
Tour Schedule and Activities
9/28/2015
Jorie Loves a Story
Review 9/28/2015
Book in the Bag
Review 9/28/2015
I Smell Sheep
Review 9/30/2015
Bee's Knees Reviews
Review 9/30/2015
Deal Sharing Aunt
Author Interview 10/1/2015
fuonlyknew
Review 10/2/2015
L. Andrew Cooper's Horrific Scribblings
Review 10/2/2015
Shells Interviews
Guest Post 10/3/2015
Azure Dwarf
Top Tens List 10/4/2015
Coffintree Hill
Top Tens List 10/4/2015
Armand Rosamilia, Author
Guest Post
Amazon Links for Darkness With a Chance of Whimsy
Print Version
http://www.amazon.com/Darkness-Chance-Whimsy-R-Sullivan/dp/194170686X/
Kindle Version
http://www.amazon.com/Darkness-Chance-Whimsy-R-J-Sullivan-ebook/dp/B00ZQF5J5A
Barnes and Noble
http://www.barnesandnoble.com/w/darkness-with-a-chance-of-whimsy-rj-sullivan/1122136766?ean=9781941706862
When did you first realize you wanted to be a writer?
I've always been a story teller. As a child I wrote and drew my own comic books, including various "original" stories that were takeoffs of popular trends. Fly Man was an original character to tell my own Spider-man stories. I did my own "Double-O Six" spy stories, with myself as a literal "Marty Stu" type. My best friend and I came up with "Wars of the Universe", borrowing heavily from Star Wars tropes into our own adventure of a fleet of NASA ships protecting Earth from a surprise attack of alien invaders. All in the far distant future of 1996 of course.

I pursued creative writing in high school and college, with encouragement from my teachers all along the way. They even gave me some awards for it and put one my stories in the college yearbook, giving me the worst thing a dreamer can get...positive reinforcement.
J


In a way, what I am doing now is simply more of the same. It has more polish, I've created original characters, advanced my craft, but deep down, I'm still the same little kid writing his Fly Man and Wars of the Universe stories for his own pleasure.
How long does it take you to write a book?


It depends. I try not to take any longer than a year to put something new out. In the case of an anthology like Darkness with a Chance of Whimsy, I subtitled it Ten Years, Ten Stories. That's because I sold the first tale, The Assurance Salesman, in 2004 and the story that ends the collection, Robot Vampire, in 2012, and round up for the time to collect and edit the set. This is deceptive, because between 2004 and 2010, I really didn't focus on submitting short stories, but never mind.

Since you can't force short story sales, a collection takes as long as it takes, and I believe that a collection of SOLD stories gives the collection the street cred to be worth the wait. Not everyone agrees and that's okay.
What would you say is your interesting writing quirk?
I drink from an eclectic collection of coffee mugs (getting more eclectic as fans are now starting to send them to me). The star of my collection is the Magical Mermaid Mug. Fans never get tired of seeing what I'm drinking out of from day to day.
Where do you get your information or ideas for your books?
I am a fan first and foremost. I write what I want to read, or what I think isn't being read, or in some cases, I write in a genre that I think has been underserved or abused. It's no coincidence that at a time I've been highly critical of JJ Abrams and other creators handling of space opera that I'm turning my attention to the genre. I think space opera is on the verge of a resurgence and that's why my next project, Commanding the Red Lotus, is my contribution to the genre.
What do you like to do when you're not writing?
I write during the day and spend most evenings watching classic films and current genre TV (maybe too much time). I think it's important to know where the pulse is on popular media since that's the same audience I'm trying to reach. I think as a small press author that I'm perfectly positioned to offer a good alternative to the masses looking for more of the same or who are somewhat dissatisfied with Hollywood's curr4ent trend of dumbing down content to its audience. I'm not afraid to say the small press and indie publishing can offer content in the same vein as the mainstream but for a more discriminating audience.
What does your family think of your writing?
They have been a million percent supportive of my endeavors. My parents encouraged me to do my own thing as a child and still do. That they see all the work leading to some success I think pleases them as much as it pleases me. My sister-in-law is an avid reader and tells all of her friends about what I'm up to, and my parents buy copies of my books and subject them to all their friends. It's kind of awesome.
How many books have you written? Which is your favorite?
I have four books out with a fifth due out very soon. I have a trilogy (so far) of paranormal thrillers in a loosely connected series. Haunting Blue, my first novel (and I still dig it) is an edgy mystery with an angsty teenage punk girl (named Blue for her hair color) caught in the center of a small town mystery, told as a more adult Hardy Boys tale. Haunting Obsession is my bestselling reader favorite about elegant Hollywood ghost "Maxine Marie" haunting a fan in a morality tale about how our fannish focus can take over our lives. It introduces Rebecca Burton, the mysterious paranormal investigator and series regular. This brings us to Virtual Blue, in which Blue and Burton team up to defeat a demonic cult from releasing an evil spirit upon the world.

Darkness with a Chance of Whimsy is ten short stories offering an array of styles and subjects, and includes two stories offering hints about the mysterious past of Rebecca Burton. And coming out next in paperback will be Commanding the Red Lotus, collecting the two ebook novelettes of my spaceship adventure series with a new third story to complete the first arc.

As for my favorite....I think Darkness... offers stories that present a number of styles and the development of my craft beyond ghost stories and the paranormal. I'm very proud of it, and of course it's prudent for the tour that this is where I focus. But in the long term, it's Haunting Obsession that the fans keep coming back to, and it remains my long-standing favorite.
Do you hear from your readers much? What kinds of things do they say?
Social media has allowed the author and reader to communicate on a wide variety of topics on a daily basis. I was and always will be a fan first, and I love geeking out with other fans and sharing my opinions (agree or disagree) on what's happening on the nerdy cool things we all love.
As a child, what did you want to do when you grew up?
What would you like my readers to know?
I have added a new service on my website. I will mail personalized autographed books from my stock directly to their door. Check it out here. http://rjsullivanfiction.com/ and click the "Books signed by RJ"tab