A themed book tour through
Prism Book Tours
.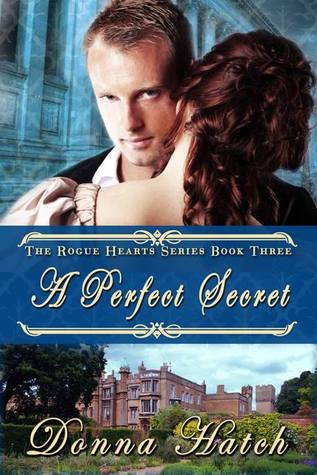 A Perfect Secret
(Rogue Hearts #3)
by Donna Hatch
Adult Historical Romance
Paperback, 348 Pages
December 14 2013
Desperate to protect her father from trial and death, Genevieve breaks off her engagement with Christian Amesbury and marries a blackmailer. After a year of marriage, she flees her husband's violent domination only to have fate bring her back to Christian. Just when she thinks she's started a new life of safety and solitude, her husband tracks her down, stalks her, and threatens everyone she loves.
Still brokenhearted over Genevieve's betrayal a year ago, Christian can't believe she's come back into his life--and worse, that she's done it on the anniversary of his brother's death, a death that haunts him. Though tempted to throw her back into the river where he found her, he can't leave her at the mercy of the terrifying man she married.
When her husband torments Genevieve and puts his family in danger, Christian will do anything to protect those he loves...anything except give Genevieve another chance to break his heart.
Excerpt:
CHAPTER 1

(Cont'd)
All sound faded away except for the wild pounding of Christian's heart, and that terrible, terrible scream. Christian reached the ground without knowing how he got there. Faintly aware of searing pain in his hands, he collapsed on the ground beside Jason, reaching for him but terrified to touch him. Dizzy and out of breath, he gulped in air and the screaming stopped.
"Jason?" he rasped.
Other noises, other shapes, swarmed around him in a fog of confusion, but his vision fixed on Jason's chest struggling to rise.
Christian put his forehead on Jason's brow and wrapped his arms around his brother. "Jason, wake up. Open your eyes."
Jason's breathing grew more labored. He made a terrible rattle, then fell silent. All motion in Jason's chest stopped. Christian's own heart stopped. All the world stopped.
Someone peeled Christian off Jason and shoved him away. Voices, frantic and shrill, poured in all around him but he stood alone in a sea of horror. Adults shoved past him, crowding around Jason's motionless form. A dull roar built up in Christian's head drowning out everything but the image of Jason lying so still. Not moving. Not breathing. Not living. Somewhere the far reaches of his mind registered the knowledge that Jason would never open his eyes, never play, never laugh.
Someone shook Christian so hard that he bit his tongue. "What happened?"
Christian pushed back the suffocating fog. "He fell." His voice sounded far away as if someone else were talking through the other end of a hollow log. The truth wrenched out of him. "I dared him to jump. And he fell."
The ground had rushed up then, smashed Christian in the face, and had hurled him into darkness.
Another raindrop fell, jarring Christian back to the present. A moment later, the soft ping of raindrops pelted the roof of the crypt. Wiping his tears, he turned away, and stopped up short. Grant, as silent and dark as a shadow, glowered at him from the gate of the churchyard.
Christian glanced at the family coach waiting on the side of the road. The sound of Mama's weeping scraped against him like sandpaper on bare skin. Father's low voice as he tried to console her burned like lemon juice on an open sore.
He'd done this. He'd torn apart the family. It was his fault. Mama cried constantly and some days didn't get out of bed. Father never smiled. Two months later, Cole and Jared left for the sea. Jason was gone forever. Grant never spoke to him, only shot him murderous glares that left Christian constantly looking over his shoulder, half expecting to see a knife plunging toward his back.
Christian squared his shoulders and strode with dignity he didn't feel past gravestones and monuments. As he passed Grant at the gate, his brother spoke his first words to Christian in three months.
"I wish you were the one who had died."
My passion for writing began at the tender age of 8 and I've been hooked ever since. Of course, I also wanted to be an actress and a ballerina, but one out of three isn't bad, right?
In between caring for six children, (7 counting my husband), my day job, my free lance editing and copy writing, and my many volunteer positions, I manage to carve out time to indulge in my writing obsession. After all, it IS an obsession. My family is more patient and supportive than I deserve.
- Grand Prize:
$20 Amazon gift card and an ebook (INT) or print copy (US Only) of
A Perfect Secret
OR
The Stranger She Married
(winner's choice)
- 5 ebooks
of
A Perfect Secret
- Open Internationally
- Ends July 20th